After the dog walk yesterday, we had lunch at

The Zeus
Restaurant. It's years since I've eaten there and things have changed a lot. There's more dining room and the place is light and airy compared to the dark, pokey dive of 10 years ago. The one thing that hasn't changed is the excellent food.

The reason for choosing the Zeus was because it's in the same town as the 'Wool-n-Things' shop. MWNN is so pleased with his shawl, he's commissioned two more pieces

a throw for his computer chair with a pocket for a back support cushion.

a cotton yamulke, or a short beanie to cover his bald spot.
'Wool-n-Things'
didn't have any yarn that he liked for the throw but they did have some neutral cotton for the hat.
Finally, today is
's birthday.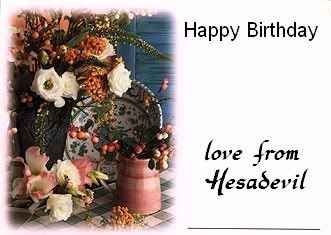 For bendy1 -

just because. And for
gillo
-

, it really does help.